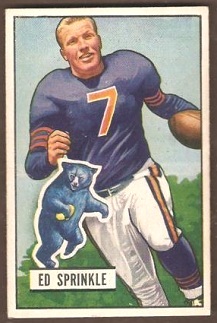 I haven't seen it posted anywhere yet, but I got the call from my step dad (who is friends with Ed) that he passed away this week.
For those that don't know, here's bit about him:
He was known to many as "The Meanest Man in Pro Football" and was nicknamed "The Claw." He played for 12 seasons with the
Chicago Bears
and is credited with calling attention to the NFL's defensive players. Bears coach Papa Bear Halas referred to Sprinkle as "the greatest pass-rusher I've ever seen" and "a rough, tough ballplayer, but not a dirty one."
Sprinkle claimed that his aggressive play was similar to that found all over the NFL throughout the 1950s. According to Sprinkle, "We were meaner in the 1950s because there were fewer positions and we fought harder for them. It was a different era."