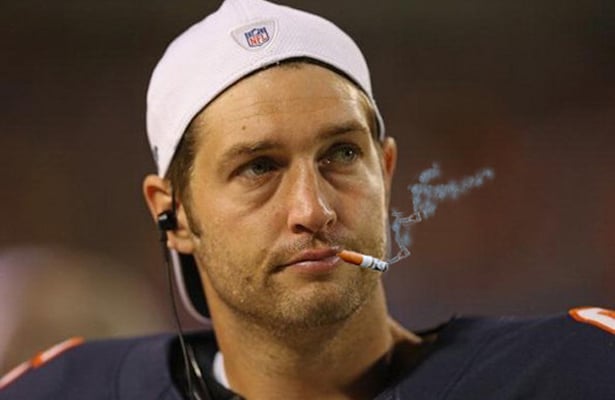 I know, I know. It's the cool thing to do. Let's all hate Jay Cutler. He's the worst. He's a mustache-less Hitler. If Satan and Bin Laden had a child, it would be Jay Cutler. He makes you want to drink. I get it. But let's move past the hurt for a quick second and look at his statistics.
Jay Cutler is on pace to have 4200 passing yards and 32 TDs and a 92.8 QB rating. Let's just put that into a quick perspective. If he indeed hits these projections, he will surpass the ALL-TIME Chicago Bears single season passing yards records by over 500 yards (current record 3,666 yards by Jay Cutler in 2009). He will also surpass the ALL-TIME single season passing touchdown record for the Bears (29 by Kramer in 1995). While Peyton Manning and Drew Brees may scoff at these numbers, this would easily be the greatest single season by a Bears quarterback EVER.
Also, let's compare him to some of the other big name QBs in the league this year and how their season looks to project based on current stats:
Jay Cutler 4200 yards 32TDs/18ints 92.8rating
Phillip Rivers 4179 yards 36TDs/14ints 102.6rating
Tony Romo 3740 yards 30TDs/10ints 107.2rating
Eli Manning 3937 yards 30TDs/10ints 93.1rating
Drew Brees 5000 yards 32TDs/18ints 95.1rating
So we've established that Cutler is on pace to have the greatest QB season in Bears history. He is also on par with several of the other bigger QB names in the NFL for this season.
The differences mostly come down to wins and losses and expectations for the season. After last season, the Chicago Bears were a top 5 offense amassing nearly 400 yards per game and scoring almost 28 points per game. Coming into this season, Brian Billick proclaimed Cutler as his favorite for MVP. With a second year in the same offense, was that out of the question? However the Bears are 3-6, can't win at home, and aren't even scoring 22 points per game.
With all of this in mind, does Cutler deserve as much of the blame and hatred he has gotten this season?